You've got great content on your blog.
And you've heard that Pinterest is THE source for free traffic.
So, you take the next logical step: you start a Pinterest account for your blog. You read everywhere that group boards are the key to driving traffic, so you find your way onto a few in your niche.
And then...
*crickets*
You built it, but they did not come.
This is usually the point where most bloggers tell themselves, "ya know, my blog probably isn't geared towards Pinterest anyway"
...and then they give up.
Another failed attempt at getting traffic. And more time wasted.
And round and round they go, until eventually giving up on blogging altogether.
Listen: ANY blog with evergreen content (i.e, content that is not time sensitive) can perform well on Pinterest. There are 150 million monthly Pinterest users, and I promise you they are not all middle aged women looking for recipes.

How do I know that?
Because I run a personal finance blog (personal finance! BO-RING, am I right? Seriously the last thing you would expect to do well on Pinterest), and I get well over 100,000 people visiting my website from Pinterest every single month.
For free.
No paid ads.
No 1% reach (*cough* Facebook *cough*).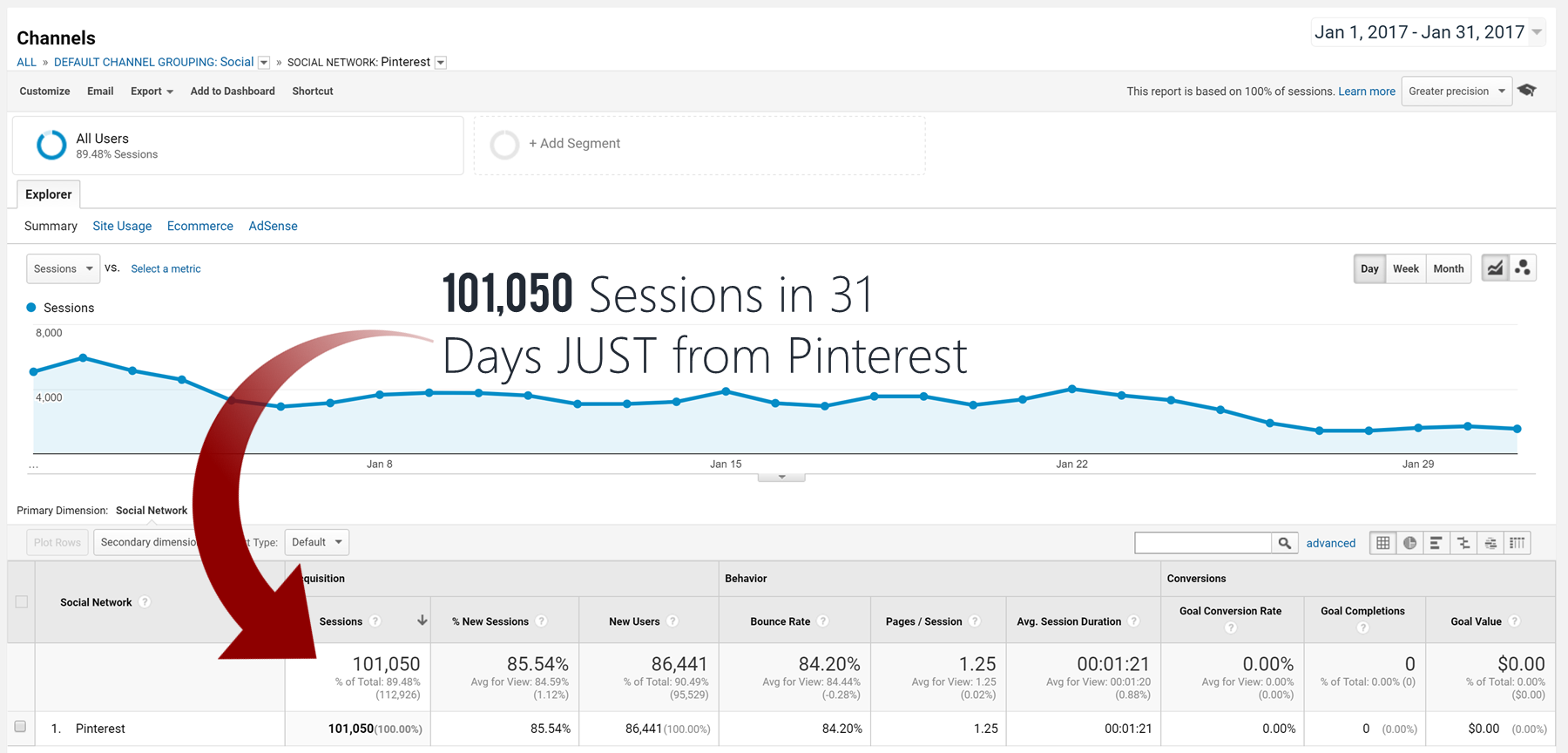 But here's a dirty little secret that so many Pinterest how-to articles online fail to mention:
Your pin design is everyyyyything.
In fact, it's way more important than the number of group boards you're on. Heck, it's even more important than the blog content itself.
Sad, but true.
Chances are, your pins suck.
And that's the biggest reason why you aren't getting traffic from Pinterest.

It's holding you back.
We've all been there, myself included. My first pins were utterly embarrassing. Oh and btw, I'm a guy, so I was definitely out of my element when I first started using Pinterest. I had never used it for personal use, ever.

But eventually, I figured it out.
Through more trial and error than I ever want to admit, I've finally cracked the code.

Want proof? Here's a recent Pinterest Analytics screenshot from that personal finance blog I run:

You're no different than me.
You too can learn how to make amazing pins that *pop* off the SmartFeed.
Pins that steal your readers' attentions.
Pins that get traffic.
That's what this course is all about.
Making viral pins involves so much more than just copying your competition's high performing pins.
It's about getting inside the heads of your readers, giving them what they want, and presenting it in a way that compels them to click through to your articles.
There's a method to the madness. It's not intuitive.
But it's something that can be learned.
---
Who This Course is For

Bloggers who are serious about building traffic from Pinterest. Both beginners AND advanced bloggers will benefit from this course, no matter what your starting point is.
You're ready to build authority in your niche, whatever it may be. No more cringe-worthy pins. No more swings and misses.
Bloggers who don't want to slave away on social media all day and night in order to sustain traffic. You're busy. You're time is better spent on the BIG things in your business. Learn to make great pins and schedule them like a pro, and you will have a constant stream of steady traffic. Every day. No matter what.
....and Who It's NOT For
Bloggers who focus on current events or produce other non-evergreen content. Pinterest is designed for timeless, evergreen content. If you have a personal blog or write content that goes stale after a week, this course (and Pinterest) is probably not a great fit for you.
Bloggers who want a ticket to overnight success. Even with all the content in the course, you still need to put in the work and practice the skills behind making great pins. You won't get it right your first time (no one does). Be willing to work. Be willing to try new ideas.
---
So, are you ready to treat your blog like a business?

This course requires a $97 investment from you.
Is it worth it? You tell me:
Is having 1,000 extra visitors per month (forever) worth a one time $97 investment?
What about an extra 5,000 eyes on your content each month? Would you pay $97 for that?
10,000 more monthly visitors?
Because of Pinterest (and because of well designed pins), I have thousands of people visiting my websites every single day. In turn, those readers get great content...and they consume ads, purchase affiliate products, sign up for our email list, etc.
Having strong performing pins with great design helps me earn nearly $10,000 more in income each month.
Pinterest is a platform worth putting in the time and effort to master.

Now, I can't promise you the same results. Ultimately, your success is up to you.
BUT
I'm willing to make this promise to you: If you don't increase your Pinterest traffic by at least 2,000 monthly visitors within 45 days of signing up for this course, I'll give you your money back.
I don't care if you get 18 visitors a month right now from Pinterest or 480,000, I know you will learn something from this course.
Ready to join the fun? Sign up now and let's DO THIS!